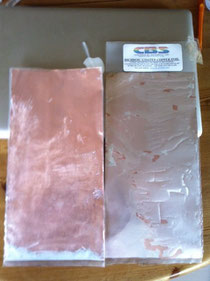 I want to move my work station to another room, and found some older dichroic coated copper foil. As far as I remember, the foil did have some nicer color as I received it. Now it looks just boring :(
Some flakes do still have a greenish shimmer, but the rest looks like the color is gone! The foil is approx. 3 years old and I did order 3 sheets. These 2 sheets I found today.
I decided to make some dust of the one you see on the left. If you look at the right one you can see a smaller piece with a green shimmer, the rest is just silvery.
Is it possible that the dichro did lose its color??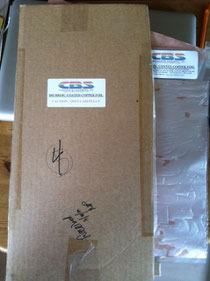 This is how I stored the sheets. It's how I got them from CBS, between two cardboards. 
So, I made some beads with the dust and wondering how they look like. The beads are still in the kiln and I will show them in the next days.