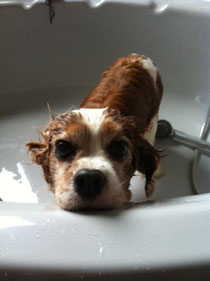 Wanted to share this.... Doggie wellness with a nice bath.... but it seems like Lucca doesn't like it. If I'm honest: He hates it!! :) 
We just needed to bath him... he had a strange smell and has got some inflamed sore on skin at his ears.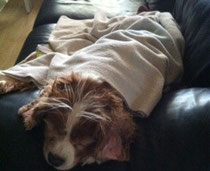 Always being toast after this procedure.
Also, I did make some pictures of new lentils and try to get them on tonight. I will not have much time on Friday as I go to my parents house helping them and getting my stuff packed for the short cruise with my gal friends :)
Starting on Saturday from Hamburg (Germany) to Oslo (Norway ) on Monday and Copenhagen (Denmark) on Tuesday... then back to Kiel (Germany) on Wednesday. 
So if there might any customers reading my blog, please give it a few days more to receive your beads as I can ship soonest on Friday next week (we have another Holiday on Thursday).
We have 3 Holidays in May .... isn't that incredible?? :)
OK, so long ...